The California Smokers' Helpline and its training and technical assistance arm, the Center for Tobacco Cessation, are pleased to provide this free Provider Toolkit on Smoking, Nicotine, and the Brain.
Overview
Tobacco and related products exert their addictive potential through nicotine. This webinar will review the mechanisms through which these products deliver nicotine and through which neural pathways nicotine exerts its effects on the brain.
The implications of neuroscience on both the health of active tobacco product users and on tobacco product use cessation treatment strategies will be discussed.
The webinar will conclude with a discussion on the clinical and organizational implications associated with implementing smoking cessations strategies, in light of the research on nicotine and the brain.
Toolkit Contents
Our free Toolkit includes:
Webinar recording and slide deck
Handouts:

What's in Cigarette Smoke?
Top 10 Tips to Quit Smoking
Quit Aids: Tools to Quit Smoking
Presenter
Brian Hurley, MD, MBA, DFASAM
Assistant Professor of Addiction Medicine
UCLA Department of Family Medicine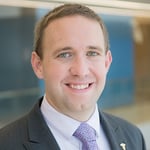 Brian Hurley, MD, MBA, DFASAM is an addiction psychiatrist and the Medical Director for Substance Use Related Care Integration at the Los Angeles County Health Agency. Brian is currently the Treasurer of the American Society of Addiction Medicine (ASAM) and gives presentations around the world related to addiction medicine. He is board certified in general psychiatry, addiction psychiatry, and addiction medicine.
He serves on the American Board of Psychiatry and Neurology's Addiction Psychiatry examination writing committee. Brian completed the Robert Wood Johnson Foundation Clinical Scholars Program at the University of California, Los Angeles (UCLA), and was previously a UCLA - Veterans Administration National Quality Scholar at the VA Greater Los Angeles Healthcare System. He completed a fellowship program in addiction psychiatry at New York University School of Medicine. Brian completed residency training at the Massachusetts General Hospital and McLean Hospital, where he was Chief Resident in Addiction Psychiatry.
---