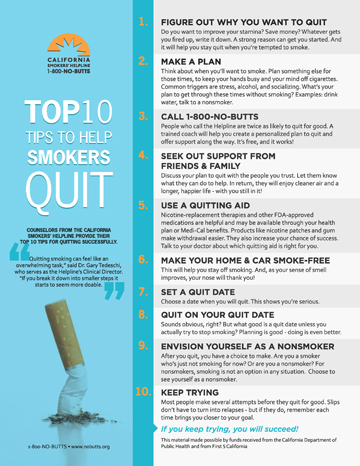 The Great American Smokeout on November 21 is a perfect time to encourage your patients who smoke to make a quit attempt. To help smokers stay quit, the Helpline is offering its Top 10 Tips to Help Smokers Quit flyers in six languages:
Quit attempts are vitally important to population-based cessation as most tobacco users must try repeatedly to quit before they succeed. Fortunately, 70% of smokers say they want to quit. And, asking and advising a patient to quit can actually double the chance that he or she will try.
So, take this opportunity on the Great American Smokeout to ask all your patients if they smoke, advise them to quit, and provide them with our Top 10 Tips to Help Smokers Quit flyer. For smokers who need additional support, refer them to 1-800-NO-BUTTS (1-800-662-8887) for free help and a plan to quit.